Ghana's Tokyo 2020 Olympic contingent arrived at the Japanese town of Inawashiro 3 weeks ago to begin their preparation, as part of plans to adequately equip the athletes ahead of the Games, as well as helping them acclimatize to the weather and natural environment of the host nation, before the competition kicks off.
The Ghanaian contingent that left from Accra, consists of 4 athletes including three boxers in Suleman Tetteh, Shakur Samir and Samuel Takyi and a weightlifter, Christian Amoah, while the rest of the athletes; the men's 4x100m relay team, two swimmers and triple jump athlete, Nadia Eke, who are all based abroad, joined the rest of their teammates a week later, totaling the number of the Ghana Olympic team to 14.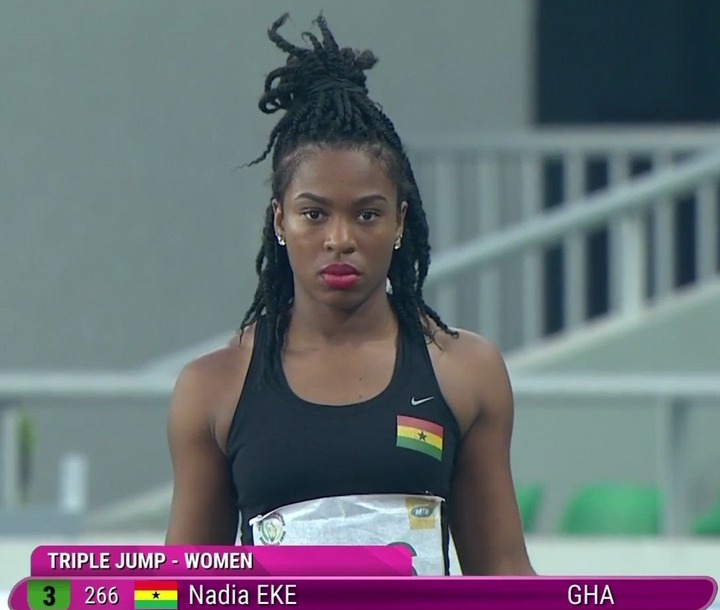 Nadia Eke the triple jump athlete who is half Nigerian born in Accra, is one of the prospects to watch out for at the Olympics in Ghana team, because of her exemplary records in her sport of choice so far, She is one of the top female triple jumpers in the world.
Eke and some members of her large family moved from Ghana to Worcester when she was 12 years old. A combination of elite athleticism, intense competitiveness and sound coaching — both in person and via YouTube videos — led Eke to hop, skip and jump her way to two state and three New England titles and be named an All-American after placing third at the New Balance National Outdoors as a junior. (She also won state and New England titles in the long jump as a senior).Eke went on to become a four-time All-American in the triple jump .
As for the Olympics, Eke confirmed her ticket to Tokyo by triple jumping 47 feet, ¼ inch last June to break her own national record. That jump ranked 20th in the world in 2019 and met the stringent, five-ringed qualifying standards by half an inch.
Her résumé also includes earning gold, silver and bronze medals at the African Championships, competing in the 2016 world championships in London and qualifying for the 2019 world championships in Qatar.
Eke, who has no professional contract despite all her success, has used her platform to, among other things, urge the Ghanaian government to invest in sports at the grassroots level and to campaign for corporations across Africa to increase their sponsorship of athletes.
Ghana won its first Olympic Medal in 1960 and has won 3 more medals 61 years after, they won 1 in football and the rest were obtained in Boxing. The Ghanaian Minister of Youth and Sports Mustapha Ussif is optimistic and believes that the Ghana Team to Tokyo 2020 will be coming home with medals, he recently proclaimed that the team are targeting six medals (two gold, two silver and two bronze).
Nadia Eke will also be the Ghana Olympic Flag-bearer at the opening ceremony. Despite the hot rivalry between the 2 countries in many facets of society which transcended to Jollof in recent times , their nationals have been very friendly and cooperative in sports. Some Ghanaian players migrated to Nigeria and played for the Green Eagles, Ghanaian Leotis Boateng was part of the 1980 team that won the African Nations Cup for Nigeria.
The Kayode brothers (Dan and Ben) were Nigerians born in Ghana, they grew up there, naturalized and played for the Black Stars as well.
 The emergence of Nadia Eke who is proudly 50% Nigerian as she described herself on her instagram handle ,is a wake-up call to nationals of the two nations that they are brethren and have kith and kin united by blood who are born of the many marital unions between citizens of the two nations and need to look beyond nationality and embrace their heritage as one Africans.